A redemptive journey for Alex Henry Foster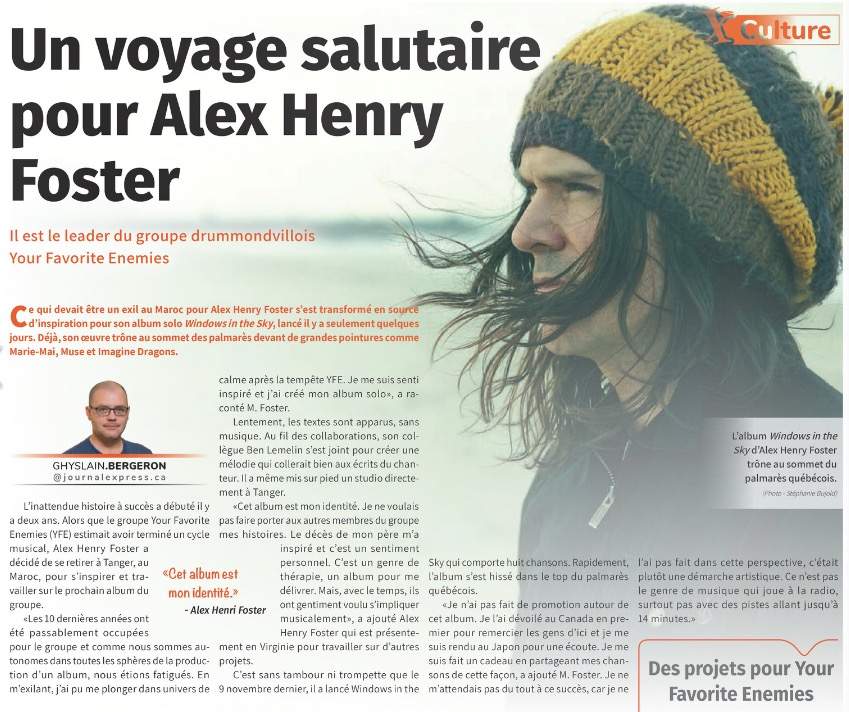 As published in L'Express
Read the original article here
He is the leader of the Drummondville band Your Favorite Enemies
What was supposed to be an exile in Morocco for Alex Henry Foster became a source of inspiration for his solo album "Windows in the Sky", released only a few days ago. Already, his work is charting at the top, ahead of big acts like Marie-Mai, Muse and Imagine Dragons.
The unexpected success story began two years ago. As the band Your Favorite Enemies thought they had ended a musical cycle, Alex Henry Foster decided to withdraw himself and headed to Tangier, to get inspired and work on the band's next album.
"The last ten years have been quite busy for the band and as we're independent in all the spheres of an album production, we were exhausted. While exiling myself, I could dive into a calm universe after the YFE storm had hit. I felt inspired and I created my solo album", said Mr. Foster.
Slowly, the texts appeared, without music. Alongside other collaborations, his bandmate Ben Lemelin joined him to create a melody that would accompany the words of the singer. He even set a studio in the heart of Tangier.
"This album is my identity. I didn't want for the other members of the band to carry my stories. The passing of my father inspired me and this is a personal feeling. It's some kind of a therapy, an album to deliver myself. But with time, they kindly wanted to get involved musically", added Alex Henry Foster who is presently in Virginia to work on other projects.
It's without much fanfare that, on November 9, he released "Windows in the Sky", consisting of eight songs. Rapidly, the album made it to the top of the Quebec charts.
"I didn't do any promotion around this album. I first unveiled it in Canada to thank people from here and went to Japan for a listening session. It was a gift to myself to share my songs this way, added Mr. Foster. I didn't expect this success at all, as I didn't do it in this perspective, it was rather a more artistic approach. It's not the type of music that plays on the radio, especially not with tracks going up to 14 minutes."
Projects for Your Favorite Enemies
Despite Alex Henry Foster's solo project and, among others, his collaborations to movie soundtracks, YFE is not dead. The main one concerned absolutely wanted to add precision to the orientation of the band, which resides in the former Saint-Simon church in Drummondville.
"We're all exploring other things presently. We'll get back together and be able to share our emotions. The band's unity is always there, and I'm sure we'll be able to feel the excitement of everyone in due time" concluded Mr. Foster.
Ghyslain Bergeron
Friday November 27, 2018