Alex Henry Foster: Interview with an emerging artist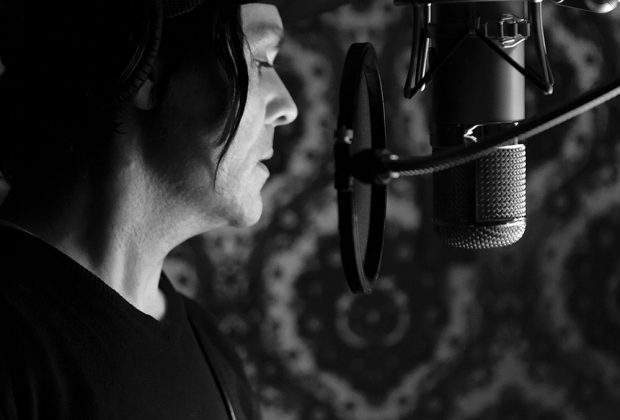 As published in Le Collectif
Read the original article here
How did your passion for music start?
The passion for music, literature and art in all its forms undeniably comes from my parents who, despite their constant struggle to survive, have taken all possible means to make me discover a reality that was expanding well beyond the financial precariousness with which they had to deal during most of my childhood and adolescence.
I have no memory of a day without the music of an artist or another coming to fill the space of the innumerable small makeshift apartments where we lived successively for a brief moment.
The most intimate memories I have with my dad are defined by the moments when he made me sit on an old sofa to share his love of The Rolling Stones, Led Zeppelin, Neil Young, Creedence Clearwater Revival, Pink Floyd and Black Sabbath, to name only those. I still remember my fascination for these vinyls, which ostensibly so fragile, had in their grooves an unsuspected power, a clamor with the unique property of feeding both my mind and my imagination.
My mother, who is very fond of what is now called old time rock 'n' roll, made me dance every Saturday morning to the rhythms of Elvis, Jerry Lee Lewis, Buddy Holly, Chuck Berry, Little Richard and other heroes from her childhood. I could not really understand how much good it was doing to me, but at this age, I would say that the definition of a sad existence was not that marked by the anguish of my uprooting and multitudes anxieties engendered by what it means to have to deal with poverty, but rather of a life stripped of all forms of music.
I think that music truly took over from the moment I witnessed a rehearsal of a friend's brother's band. I was in 5th grade… I will never forget that moment when I saw people really playing an instrument. There was such power in coordinating the chaos that I heard this autumn afternoon that made me discover The Cure, The Clash, Bauhaus, Siouxsie and the Banshees, The Smiths, Joy Division and many others. I was totally hypnotized by what had changed my life forever…
Then followed my discovery of the Sex Pistols, the Ramones, The Stooges and The Cramps, bands that allowed me to live my first musical experiences, although it was Fugazi, Sonic Youth, Nick Cave and Leonard Cohen who eventually took the whole place, while the music became for me more than decibels, but literature and sound textures. From that moment, everythin that was not artistic became totally uninteresting for me…
What led you to start everything?

I had numerous bands while in high school, but nothing too serious. It's only when I met Sef, with whom I was going to found Your Favorite Enemies, through our academic background in social work, that music would become the driving force of our activism and the tool with which we could express ourselves and have the opportunity to bring together people who, like us, felt the need to break their emotional isolation.
It's really this goal of reaching people that made us start everything. We played a few benefit concerts to the profit of human rights groups with which we were already involved and then followed the beginning of what would be a unique adventure which brought us to the four corners of the world, without any other plan than to follow our instinct, guided by our friendship and the desire to connect with others, whomever they might be.
You were first the singer of the band "Your Favorite Enemies" before starting your individual career. What distinguishes your music as a band from your own music?
I would say that it distinguishes itself by the nature from which this music emanates. Your Favorite Enemies has always been the product of a deep friendship among its members, a collective vehicle expressing strong emotions through our deep creative differences. The pure energy of this expression was only for the sole purpose of being communicated with people who felt the same emotions, the same needs, those same desires, or who did not suspect their existence… All through one almost cathartic abandonment.
My project, however, was born through the mourning of my father, which highlighted years spent trying to avoid addressing deep personal issues and other intimate emotions that I had camouflaged for years through the group's sound and the "we" that implies to be part of a collective. This is what makes my music a more introspective, contemplative and immersive experience, where the words carry emotions expressed honestly, without filter, without shame, without artifice, where music transports us rather than jostling us and to make us capsize.
In 2016, you went to Morocco for 2 years to work on your album "Windows in the Sky". What was your inspiration in its creation?
I first and foremost went to live in a place where I had no friends, no landmarks, no potential beacons. I was totally exhausted physically, emotionally and spiritually. My only goal was to drift, but the spirit of the city of Tangier allowed me to discover what abandonment meant, to let go totally. It was at this moment that the desire to write slowly came back, and that I became aware of my need to live the mourning of my father, to make peace somehow with the many torments and storms who had marked the person that I am and the artist that I had become.
Have you always wanted to have a solo career? What led your choice?
I have never had any careerist ambition… For me, creation, like art in general, is a gift that we receive in order to offer the subsequent fruit in return. And if producing a solo album was really a choice, I would say that it was more a need I felt to express myself without having to hide through decibels and not having to throw myself into the crowd from the second balcony of a venue to feel alive…
Why introducing your album in grand premiere in Tokyo?
Because I always felt at home in Japan. As this album is both personal and intimate, I felt this deep need to expose myself to people who have not only seen me as the person I am today, but who have always been generous to me in their affection and hospitality. I knew that if I could present myself in front of them with this album, it was because I knew that I had gone to the end of my ressources for it to see the light of day.
You launched your book "A Journey Beyond Ourselves" in 2017, in which you discuss the creation of "Tokyo Sessions" of Your Favorite Enemies. Why was it important for you to explain the story of the creation of this album?
Because "Tokyo Sessions" is the album that allowed us to free ourselves from our doubts, our limitations and our eternal reassessments. This album is the re-appropriation and re-writing of the album "Between Illness and Migration", for which the group was nominated at the Juno Awards and which allowed us to tour around the world for almost 5 years, tours where the songs became their own incarnations and where we became aware of the distance that had settled between us. It was important for me to witness this pivotal period, to share its nature with the people who had been following us and supporting us so loyally forever. If "Tokyo Sessions" was to be the last album of Your Favorite Enemies, it was exactly what we wanted to do and the real reflection of what the band had become. I wanted to celebrate the emancipating effect it had on us and to bear witness to the creative freedom it infused in us.
You also write about artistic, musical and daily topics in 2 magazines: "The Eye View" and "BEEAST" in Japan. In addition to considering you as a singer, musician and author, you are a poet. What are your writings inspired by?
Of all that I perceive when I take a moment to observe, to see beyond myself. I have always been fascinated by what I affectionately call "the other"; his life, his wrongs, his paradoxes, his nonsense, his kindness, just as his honest cruelty. There is in the "other" what I refuse to admit in my own self, what I like to believe as different when it is not. I saw absolutely beautiful things in "the other", I was swept away to have seen the suffering and terrified by those he loves to inflict his neighbor. I realized and understood that I did not know anything about him, or me, for that matter. It is these reflections that inspire me… "The other", knowing that he sees me too.
Before focusing on your music career, you first graduated from Social Work and were involved with Amnesty International as a spokesperson and speaker, among other things. Do you give room for social involvement in your artistic career?
For me, the two are indissociable. There is no form of art, whatever it is, which does not prove to be a social implication. Even the one that can appear as the most insipid form of expression or creation is a social implication. Whether it is the reflection of the world or the pitfall of the latter, art is social, has always been, and always will be. I often feel that we live in an age of appearances, the illusory and the culture of insipidity in all its forms, but art is nonetheless at the heart of it, just like its social impact. Art is a reflection of the world, of the "other", and its opposite. At least, that's how I see it and put it at the center of each of my public or personal projects.
You have been nominated for "Anglophone Album of the Year" at L'ADISQ this year. Did you expect this nomination after seeing the success of your album?

It was a wonderful surprise, but for a reason that has absolutely nothing to do with the award ceremony and their so-called recognition, since for me, it is first and foremost the joy of knowing people who have received me through my album to be not only proud, but carriers, since they have given an identity that goes far beyond the words and sounds that carry the album. They made it theirs, and it was for all those people that this nomination particularly pleased me.
Among all your compositions, do you have a crush, a preference? Why?
This is a difficult question to answer, because the answer invariably rests on my state of mind. At this moment, I would spontaneously say "From the City to the Ocean", because it is about questioning yourself in front of the distance that one believes to cross with the time which unfolds before our eyes, a text resulting from a perspective on our intrinsic need to be in control, when this is never really the case; the motion is the result of our decision towards the need to let go when we are told to hold on.
When did you realize the scale of your musical success? Did you anticipate it at a certain point? Was it your goal when it all started?
I do not believe that we can anticipate anything if we feel no desire and in that sense, I do not really believe in the notion of success or failure when we decide to create. However, I quickly realized the perverse effect when I felt dispossessed from the reasons why I created when, after only 3 concerts, our first (and last!) manager parachuted us without any form of preparation or coaching in the implacable world of entertainment and the claws of those who feed on the dreams and hopes that are for some their only possessions. I am proud to say that it is our deep friendship and love for each other that not only protected us from ourselves, but are the reasons why we are still together today. If there is a notion of success attributable to our adventure, it is our friendship that deserves to be honored…
You also perform in Germany. Do you plan to expand elsewhere in the world? Are your roots (Montreal) important to you?
I did not have the vision to go on stage when I gave birth to "Windows in the Sky", I was even terrified! I did not think I had the strength or the ability to play these very personal songs night after night. It was our friend Laurent Saunier who insisted that I perform at the Montreal International Jazz Festival, which convinced me by his resilience, his insistence, but especially his deep attachment to my album. So, unlike Your Favorite Enemies which took off in Europe and Japan, this project is closely linked to my roots. That's what made me want to repeat the experience on November 30 at L'Astral in Montreal, but also to perform across Quebec if the opportunity was given to me, although I'm already scheduled to play in Europe, Asia and the United States in the coming year.
What are your plans, what can we wish you for the future?
The deluxe version of "Windows in the Sky" is expected to be released internationally next spring. I composed the soundtrack for a film about the Irish poet William B. Yeats also set to appear at the end of 2020. There's also a project that is particularly close to my heart, the release of a special boxset of Your Favorite Enemies on January 31, 2020.
And if I have a wish to express, it is the hope that the privilege you granted me to share my adventure through your newspaper will inspire others to follow their instincts and create their own uncompromising destiny.
Don't hesitate to write to me: Facebook
ARIEL BÉLANGER
November 26, 2019