"I Hate Loving You…" Part 2
Once again, I've been truly touched to receive your song suggestions, the stories associated with them all, some of them as emotional as others were funny! Thank you all for turning my weekly @Spotify playlist into something way more interesting and meaningful than a distant assemblage of songs.
Therefore, I decided to answer a question by Zoé from Paris, France: "What was your first heartbreak and what band/artist did you turn to in order to overcome that emotional pain?"
Week 6
Feature: Nick Drake

I don't know if the expression "the first cut is the deepest" really means anything regarding emotional pain, but I certainly experienced something that felt like the most devastating sensation of all in my last 2 years of high school. I didn't see love quite the same way my friends did at the time, I wasn't really dating, nor was I someone people were eager to be romantically involved with. And I realized quite fast that a guy obsessed by Kant's perspective and Baudelaire's work wasn't really what other people considered cool, not as a potential fun person to go out with at least, especially at 14-15 years old!
This probably explains why my first heartbreak never came from a breakup but from the terrible realization that the person I had strong emotions for during all my high school years would never reciprocate those emotions. And it's not because my closest friends hadn't been trying to expose that obvious fact from every possible angles for years… But I was some sort of an idealist and probably secretly believed that poets would always win over the coolest and most popular ones… right?!
Well, high hopes came on burning down pretty magnificently when, on a random Monday (a horrible one I should say), a friend told me that the person I held so dearly in my heart all those years was now dating some older guy, someone who had a super nice car (what?!) and was living in his own appartement somewhere downtown Montreal (what?! WHAT?!) I was as devastated as I was completely astonished by that news, especially that it was the obvious talk of the school, even though I couldn't completely buy into it at first (as the idealist in denial I was!)
I needed a few days for that reality to painfully sink in, for that drowning sensation to come into full effect. The devastation was especially real after I talked with that special person of mine: "I'm so happy right now, it's like living a dream, it's fabulous to talk with someone mature and who has something else to talk about than hockey and Metallica! blah, blah, blah… I really wish for you to find someone like that, too! Blah, blah, blah… Pain, pain, pain. I'm moving to his place! Pain, pain, pain, pain, pain, pain. Oh, and I don't know if I'll be able to go to the show with you this weekend. Death, death, death, hate." And that was it. I saw misery in bright daylight, and then came darkness.
I was really into hardcore, post-punk and goth rock at that time, but it's surprisingly to dark folk that I turned to and that started what would become a profound admiration for Nick Drake's work, an artist I heard my late father listening to years back and found in his large LP collection. Drake (Nick, the one who writes his own songs, not to be confused with the other Drake!) had a way to talk to me. His words were resonating in a very singular way, deep within my heart, to the point that it felt more like an emotional rite of passage than an actual heartbreak with time slowly passing by, as if by losing something I so strongly believed in, I had found something that would define me for the rest of my life, may it be a voice to express myself, a way to express words transcending the deepest of all emotions. It was as if Drake had led me into realizing that whispers have the ability to embody the most complex of all feelings, that quiet music has the power to scream way louder than any hardcore bands I turned myself to. No need to fake, no need to escape, only to go deeper and deeper into it.
"Pink Moon" became some sort of a musical cornerstone for me over time. I would later find out a little more about Nick Drake's work and mythology. I would often associate myself to the man and artist, sharing similar struggles, battling against depression and anxiety, leading to a reclusive type of existence. He would tragically end up taking his own life, and became for me a vivid example of where darkness can ultimately lead you when you abandon yourself to desperation, when you are alone, turning Drake into someone more significant to me than the incredible songs he left us with.
As for the person I was so in love with at that time, the news came around a few weeks later that she wasn't living in Montreal no more and was attending a private high school. We never spoke again, but if we had, I would have suggested Drake's astonishing album "Five Leaves Left" to go through her pain and woes.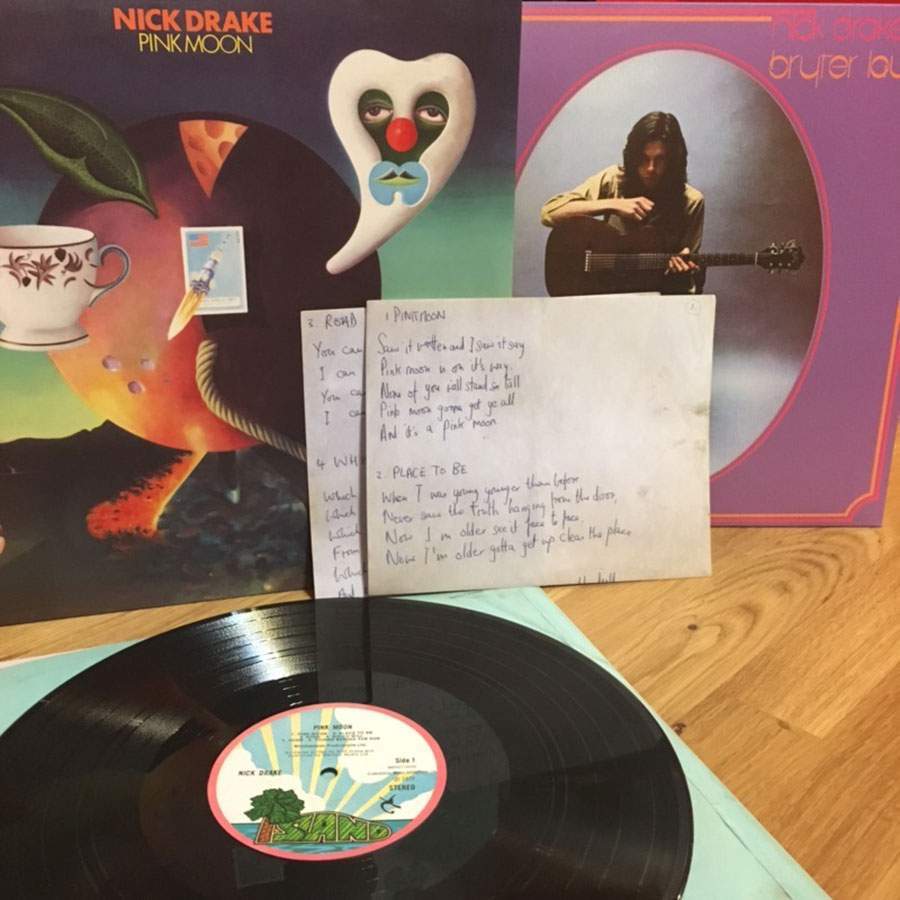 *As the playlist is updated every week, the songs listed in this blog might no longer appear on the playlist.