"My Guilty Pleasure…" Part 1
Once again, I had the wonderful privilege to receive an incredible amount of suggestions along with the stories associated to most of them, to the point that instead of having a 50+ songs playlist or having to dismiss too many of your suggestions, I decided to make it a 2-part, 2-week Spotify playlist called "Guilty Pleasure – Super Deluxe". So not only do we have the opportunity to discover or rediscover more of your songs, but it also gives you a little more time to send me your sonic guilty pleasures! 😉
Week 7
Feature: Madness
I will always remember the moment I discovered the music of Madness. I was in my favorite record store in downtown Montreal. I had skipped school to attend the gig of one of my favorite local bands who was opening for PIL later that evening. I was in the hardcore music section when I heard that cool music playing. It was something I had never truly heard before, but it was all cool sounds I liked from other bands; brass, upright jazz piano, the upright bass. But all the instruments were played in a different way. I was like: "Wait a second! What's that kind of music playing?" I was already quite fond of reggae music thanks to Don Letts and Joe Strummer, but that moment would be the beginning of a long love affair with English ska music… Thanks to Madness! 🙂
The upcoming weekend would be the beginning of something else as well. It was for me the realization that not all music was made equal in the hardcore scene! Try to picture a teenage Alex wearing a Cramps t-shirt in some kind of a douche punk party (it hurts to write those words, but it is what it is – or what it was in that case!), getting all excited to play Madness to everyone's musical delight. Well, "play" is a big word for something that actually lasted between 15 to 25 seconds at best. It didn't take longer than that for my so-called friends at the time – who, just like me, were into the likes of Black Flag, Dead Kennedys, Minor Threat and trash metal like Slayer and D.R.I. and Suicidal Tendencies – to stop the music before making it real clear, for me to really understand (being open-minded is a great sign of intelligence, right?) that such "music" was for "no real dudes". Well, they worded it in a different way, but I'll stay respectful (and didn't agree with them in the slightest anyway!)
And from that moment on, every time I knew one of those "real dudes" would be at a party or at a show I would go to, I made sure to wear one of my Madness, The Specials, The Selecter, or any 2 tone band t-shirt I had at the time, to their greatest displeasure and a few educational bruises on my end!
Nowadays, anytime I have the pleasure to put a song from Yoko Ono, Mats Gustafsson or Glenn Branca, the guilty part comes with the fact that I know that some of my bandmates will not be that happy with my musical selections and that it creates an instant reaction, without fail, absolutely every time! Oh, well…! At least they're not a bunch of douches! It's already a major win for me! 😉
PS: Look at what I found in my band t-shirts drawer… Vintage never dies, right? 😉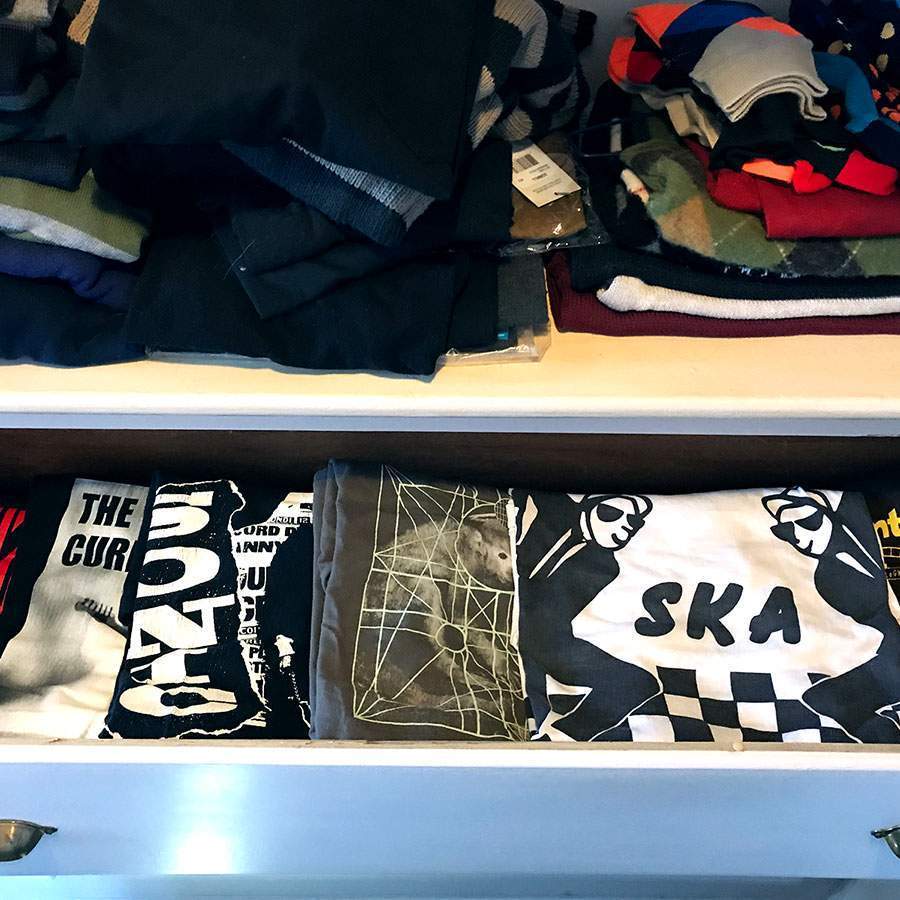 *As the playlist is updated every week, the songs listed in this blog might no longer appear on the playlist.